Ozarks Area Crochet Group on the road: White River Alpacas!
On 21 March 2009, a few members of our crochet group visited White River Alpacas for their Pre-Shearing Day event. We got to see the alpacas in full coat. They were smaller than I thought they'd be -- I guess I was expecting something more llama-sized! They were so beautiful, and for a bunch of shy beings whose world was suddenly inundated with strangers, they managed rather well.... Nobody got gobbed on, which is good, and I, Clara, got to hug a cria, which is the most important thing! Those group members in attendance were Susan, complete with husband John and his mother, Lynn, Robin, Russ, Ricky, and myself. The alpacas were almost constantly in motion, so good photos were hard to get!
Alpacas come in a really broad range of colors. Here are just a few!

And a wide variety of hairstyles! LOL!

A distant view of our group's attendees. Left to right:
Lynn, Susan, Russ, Robin, and Ricky

Lynn and Susan check out some of the moms with older babies.

Susan's husband John and his mother meet the alpacas.

Lynn tries to get up close and personal!
And of course, THE CRIAS!!!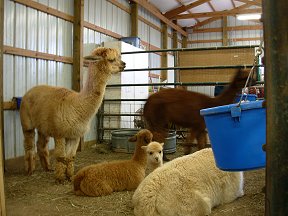 A couple of the smaller babies, or crias.
| | | |
| --- | --- | --- |
| Clara finally gets her hands on a cria! Yay! | | Hugging crias is way too much fun! Squeeeeee!. |
I took some video, too, but I won't bog down the page here, unless someone particularly wants to see it!
On the whole, we can safely say, a good time was had by all!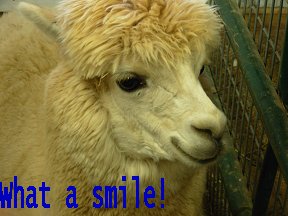 Last updated 10 February 2019
Page and images copyright 2006-2019, With A Twist Creations.